Martha Works
Examples of My Work
Graphics • Photography • Video • Websites • Content

Cockrell Mercantile Company is a unique retail site and the web site was fun to put together. At their store, you physically visit the old town of Cockrell Missouri, where there are five buildings with historical significance. The stores are filled with the latest in dishes and kitchenware and foods and accessories for house and home. The place is so unique and has everything you would want for your kitchen.

Becky and Chris Glaze are proprietors of the store. Chris is the handyman of the facility and Becky is the general manager of the operation. Chris is also an actor in Kansas City and he met Dan (the man) Compo on a commercial shoot where they became fast friends. Dan connected me to Cockrell Mercantile. I have worked with them to build and update their website for a year.

I designed the site, did the writing and the graphics and photography. Check it out, it is worth the viewing.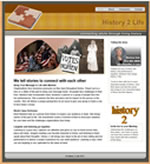 Making history come to life, Marlene Katz performs as people from American history and brings the story to her audience. She has a wide array of characters from history like Amelia Earhart. She is a dynamic story-teller who can brings ideas to life at a meeting or live event.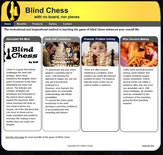 Learn how to play the game of chess without the board or any pieces. Build your mental ability and strategic acumen. Blind Chess includes Randy Phifer's personal perserverance over many health obstacles. He also presents to live audiences and is a gifted orator.